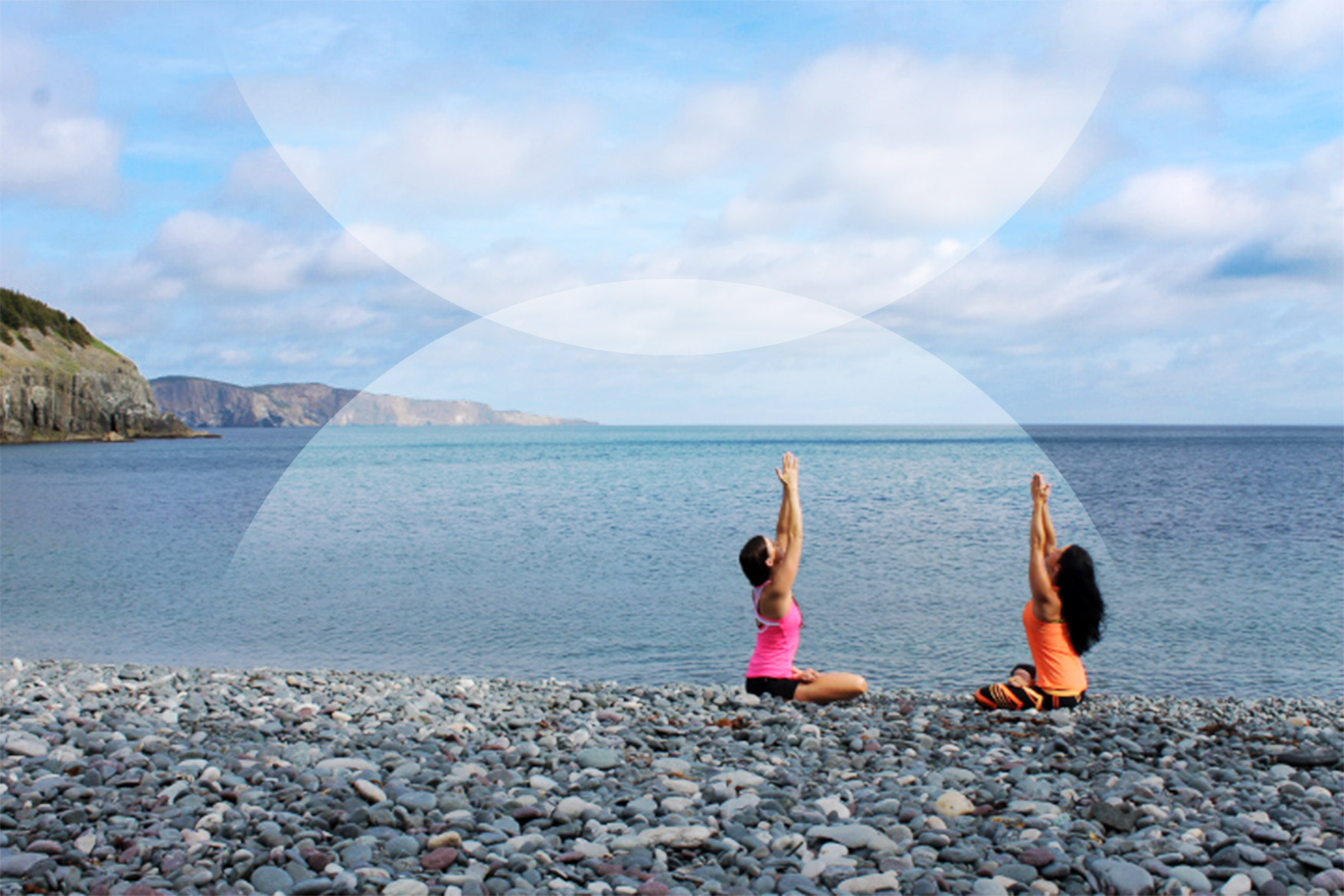 INTRODUCTORY SPECIAL!


30 Days of Unlimited Yoga For $30!
Pranayama Flow Level:1
Move with breath through this 60 minute sequence, set at a warmer temperature. This class is designed to help de-stress the body by connecting your breath with movement. It starts slow with simple sun salutations, builds heat as you move through strengthening and balancing postures and ends with a more yin inspired floor series.
SEE SCHEDULE
CONTACT US
Yin Yoga
Yin Yoga is a slower practice that features long hold seated postures that allow connective tissues and joints to open, increase flexibility and alleviate mental tension. Focus on connecting and releasing through breath work, relaxing and restoring muscles.
Awaken and Recharge
A funky morning flow, which includes a shakin' wake and a variety of standing and seated postures, designed to work all the muscles of the body, build strength, endurance and flexibility. Class concludes with recharging breath work and rejuvenating savasana.
Lunch Power Hour
Lunch Power Hour is an opportunity to break up the day with an energizing class, where the poses are held longer, challenging your focus, allowing the mind to settle into the body and out of the work place. Reset, reboot and refresh.
SEE SCHEDULE
CONTACT US
Aerial Yoga Beginner/Advanced
Aerial Beginner/Advanced (progressive series) is a fun fusion of yoga and aerial arts. It combines the support of suspended fabric (hammock) with classic yoga postures to create a unique practice that is challenging yet still accessible. Sequences include upper body and core conditioning, inversions, and restorative postures.
Core Yoga
Core Yoga is a combination of breath and movement to stimulate and strengthen the abdominals, support the spine, improve digestion and increase lung capacity while enhancing posture and balance. Cultivate and achieve internal focus and external power from the core of your being.
SEE SCHEDULE
CONTACT US
Yang Yin Yoga
Yang Yin Yoga begins with an active (yang) flow to engage the muscles, to energize the body combined and concluding with a passive yin practice to relax the muscles and open the joints – getting the best of both worlds, linking breath to movement and stillness, leaving feeling balanced, mind, body and soul.
SEE SCHEDULE
CONTACT US
Fiery Flow Yoga
A beginner vinyasa class incorporating heart openers, happy hips and everything in between with humour and a focus on healing and stoking that inner fire through our yoga practice.
SEE SCHEDULE
CONTACT US
Hip Hip Hooray
Hip Hip Hooray offers a deep opening for the muscles around the hips, lower back and legs. It stretches the body, lengthening and strengthening the muscles to increase flexibility and power. Ease tension, increase efficiency, and cultivate tranquility, improving mental focus.
SEE SCHEDULE
CONTACT US
MFR Yin Yoga
MFR is an alternate treatment technique that treats skeletal muscle immobility and pain by contracting muscles; This releases the tension in the connective tissues that wrap, connect, and support the muscles.
We will combine MFR and Yin yoga, complimenting one another to relax and restore muscles, allowing connective tissues and joints to open. Relieve tightness, rehydrate the fascia connective tissues and create more mobility in the body.
SEE SCHEDULE
CONTACT US
Aerial Yin Yoga
Low hammock. Long holds. Luxurious practice.
Longer held postures devoted to softening, nourishing, hydrating and restoring the deeper, denser connective tissue of the body – ligaments, tendons, bones, fascia.
SEE SCHEDULE
CONTACT US
Rise To Power
This yoga class will take you on a journey towards a peak pose, systematically exploring and targeting specific areas of the body. Taking time to build strength and space within the body and mind to rise to power. New pose each week.
SEE SCHEDULE
CONTACT US
4 CLASS PASS $58
10 CLASS PASS $125
MFR Yin 4 WEEK (90 minutes / MFR balls included) $132.25
LUNCH POWER HOUR $10 (cash only)
FRIDAY KARMA CLASS $5 (cash only)
BEGINNER YOGA 5 WEEK $86.25
AERIAL YOGA 10 CLASS PASS $184
1 MONTH UNLIMITED $99
3 MONTH UNLIMITED $89/month
6 MONTH UNLIMITED $83/month
1 YEAR UNLIMITED $80/month
IMPORTANT REMINDERS
1. All Pricing HST Inclusive.
2. Beginner Yoga & Aerial Yoga Classes are Pre-Registered.
3. Class Passes Traditional Yoga Only, Including Lunch Power Hour & Karma Class.
4. Class Passes may not be used for Special Events or Workshops; Monthly rates also exclude Workshops.
5. Unlimited monthly rates apply to traditional yoga only; must pay in full or provide a credit card.
6. Pre-Registered classes are limited in space; a missed class may be deferred if notified in advance, if space permits, for up to one class instance.
7. Please provide at least 2 hours notification if you will not be attending a Pre-Registered Aerial Yoga Class if previous notice has not been received.
8. Please check Facebook or Instagram up to date information regarding closures, cancellations or changes to the schedule.
9. Please arrive within 5-10 minutes before class; the door will be locked once class begins.
10. The studio will only be accessible 15 minutes before your class begins.
11. No refunds unless class is cancelled.
12. Class passes expire 1 year from purchase date unless otherwise stated.
Going away? One month memberships can be frozen ONE TIME for up to 5 consecutive days; three month memberships can be frozen ONE TIME for up to 14 consecutive days; six month memberships can be frozen TWO TIMES for up to 14 consecutive days each. **Not applicable on $30 for 30 days introductory promotion.